Gregory Marston - Colonel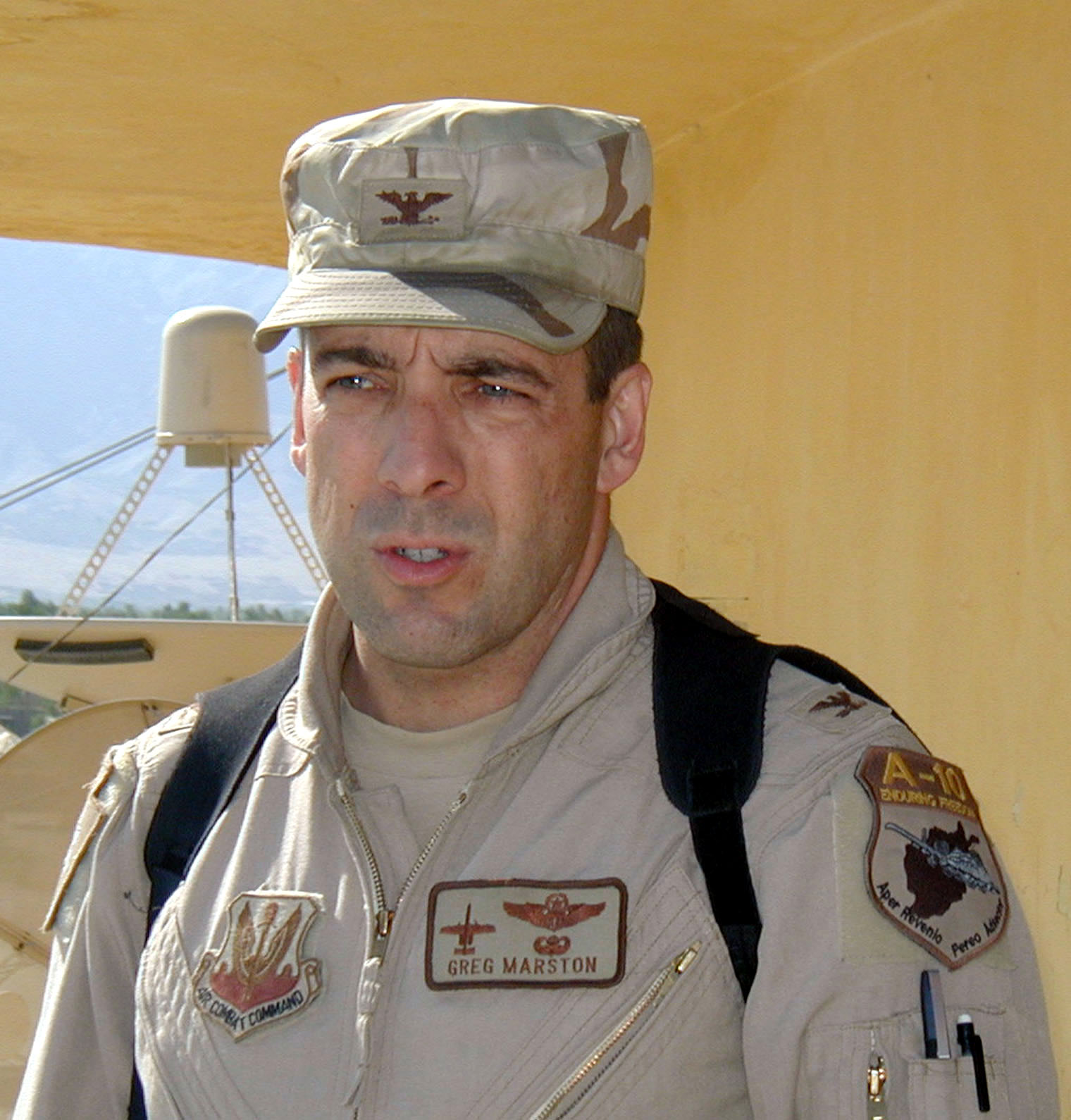 Date of Birth: Oct. 1, 1956
Country of Service: Afghanistan, Iraq, Kuwait and a year in South Korea
BIOGRAPHY
Graduated from the U.S. Air Force Academy in 1978. He became a pilot and flew the T-37, T-38, C-141, OV-10 "Bronco", A-37B" Dragonfly" and the A-10A "Warthog" with 4900 flight hours. He had 80 combat missions in the A-10A in Afghanistan, Iraq and Kuwait during four separate combat tours.
He held the following leadership positions: the Operations Officer ( same as the Executive Officer in the Navy), and SQUADRON COMMANDER of the 103rd Fighter Squaron (A-10); he moved up to the Operations Group Commander, Vice Group Commander and WING COMMANDER of the 111th Fighter Wing (A-10). His final leadership position was as the Director of Operations (#2 commander) of the Pennsylvania Air National Guard (4500 personnel).
In 2002-3 Colonel Marston was the Commander of the 455th Expeditionary Operations Group (EOG) and the Airfield Commander at Bagram Air Base in Afghanistan. During his long tour, Bagram was the most dangerous U.S. air field in the world, partially because it was operated at night as a completely "Blacked Out" Air Base, with no visible lights and all aircraft and vehicles using Night Vision Goggles (NVG). This was the only American base running Blacked Out operations.
Besides flying A-10 combat missions, Marston also designed, wrote and garnished approval for a 5-year building plan at Bagram Air Base. This was an ~$100 million program, with elements of his plan still visible today at America's largest base in Afghanistan.
In 2006-7 Colonel Marston was Commander of the 447th Air Expeditionary Group (AEG) and Air Base commander at Sather Air Base , Iraq (Baghdad International Airport) - the second largest Air Base in that war-torn country. Marston designed, wrote and presented a briefing on Iranian weapons, money and personnel coming in to support anti-government groups. He presented this briefing to many military leaders in every service up to the U.S. Ambassador to Iraq on the civilian side. This briefing greatly increased awareness of anti-government and Iranian activity that supported the successful Surge Operation in Iraq later in 2007. Colonel Marston was the only Air National Guard Officer (or U.S. Air Force Officer) to command two separate combat air bases during the Global War on Terrorism (GWOT).
While flying and maintaining his command positions, Marston was a pilot with American Airlines. He was a Captain on the Boeing 727, 747 XP, 757, 767, 777 and Airbus-300-600. He flew almost exclusively International flights to Europe, the Caribbean, South America and the Far East. He earned a Masters Degree in Military History from Norwich University (Vermont) in 2019. He has authored one book called: "Crisis in Baghdad: Leadership in a Risk Adverse Environment" (available on Amazon). He is currently working on his second book to be called "In the Shadow of the Hindu Kush". He is scheduled to retire from American Airlines in 2021, having served for 36 years with that company. He retired from the military with an honorable discharge in 2008 for 34 years of service.
Colonel Marston (Ret.) currently works helping veterans with the Veterans of Foreign Wars (VFW) in Doylestown, PA.